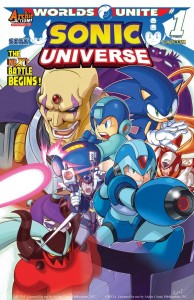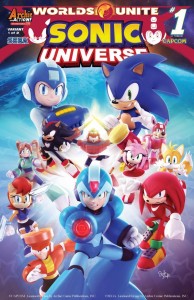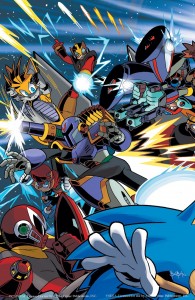 SONIC UNIVERSE #76
THE SONIC/MEGA MAN CROSSOVER EVENT BEGINS HERE! It's the epic first chapter of the biggest story in Sonic/Mega Man comic book history with "Worlds Unite" Part One! Get ready for cross-world treachery as the wicked Sigma escapes the world of Mega Man X and arrives in Dr. Eggman's secret Lost Hex base! When Sigma promises new power to the Deadly Six, how long do you think they'll stay loyal to Dr. Eggman? We're not betting for long! And just where exactly are our heroes during all this? Looks like Sonic and Mega Man are right in the middle of an ambush! The sense-shattering sequel to "Worlds Collide" starts right now! Featuring cover art from the legendary Patrick "SPAZ" Spaziante, Rafa Knight, and part 1 of the epic 12-part connecting variant cover series by artist Ben Bates!
Script: Ian Flynn
Art: Dan Schoening, Jack Morelli and Luis Delgado
Cover: Patrick "SPAZ" Spaziante
CROSSOVER KICK-OFF Variant Cover: Rafa Knight
Epic Poster Variant (pt1 of 12): Ben Bates
On Sale Date: 5/27
32-page, full color comic
$3.99 U.S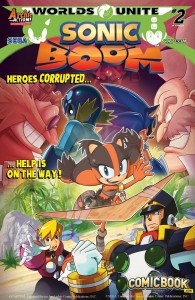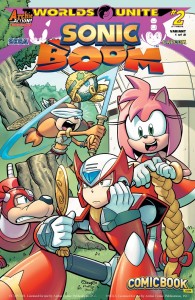 SONIC BOOM #8
It slices! It dices! It joins line-wide crossover events: it's SONIC BOOM! "Sonic/Mega Man: Worlds Unite" Part Two: It was just another day at the races—y'know, the ones with the giant spider-mechs? Things start to get weird, even for the lovable, paranoid Sticks, when X and the Maverick Hunters arrived! Meanwhile, the epic bromance of the century is rekindled as the captured Drs. Eggman and Wily are forced to turn their life-long nemeses—Sonic and Mega Man—into minions for the terrifying Sigma! After the history-making "WORLDS COLLIDE" crossover event, Sonic the Hedgehog and Mega Man unite once more—and this time Sonic Boom and Mega Man X are joining the fray! Featuring cover art from the legendary Patrick "SPAZ" Spaziante, a special "happy fun time crossover" variant by Ryan Jampole and part 2 of the epic 12-part connecting variant cover series by artist Ben Bates!
Script: Ian Flynn
Art: Dan Schoening, Tracy Yardley, Terry Austin, Jack Morelli and Luis Delgado
Cover: Patrick "SPAZ" Spaziante
"Happy fun-time crossover" Variant Cover: Ryan Jampole, Gary Martin and Steve Downer
Epic Poster Variant (pt2 of 12): Ben Bates
On Sale Date: 6/3
32-page, full color comic
$3.99 U.S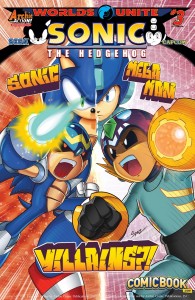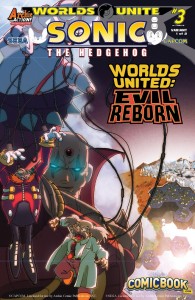 SONIC THE HEDGEHOG #273
The ALL-NEW Sonic/Mega Man Crossover sequel explodes onto the shelves with "Worlds Unite" Part Three: It's a cascade of cross-dimensional chaos! On Sonic's World, the Freedom Fighters are battling with the terrifying arsenal of M'egga Man! On Mega Man's World, the Robot Masters can't keep up with the super speedy Sonic Man! Who can possibly save our heroes? The answer is sure to surprise you! After the history-making "WORLDS COLLIDE" crossover event, Sonic the Hedgehog and Mega Man unite once more—and this time Sonic Boom and Mega Man X are joining the fray! Featuring cover art from the legendary Patrick "SPAZ" Spaziante, villain variant by T.Rex and part 3 of the epic 12-part connecting variant cover series by artist Ben Bates!
Script: Ian Flynn
Art: Dan Schoening, Tracy Yardley, Terry Austin, Jack Morelli and Luis Delgado
Cover: Patrick "SPAZ" Spaziante
Villain Variant Cover: T.Rex
Epic Poster Variant (pt3 of 12): Ben Bates
On Sale Date: 6/10
32-page, full color comic
$3.99 U.S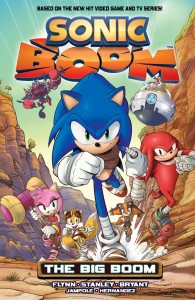 SONIC BOOM VOL. 1: THE BIG BOOM (TR)
Here comes the BOOM! Sonic the Hedgehog and his friends are back and ready to do battle with the evil DR. EGGMAN and his mechanical minions and diabolical death-machines! This ground-breaking new chapter in the Sonic the Hedgehog franchise puts a different "spin" on all your favorite heroes and villains—plus brand new faces and hilarious stories chock-full of action. Written by bestselling Sonic comic scribe Ian Flynn, the comic series will reside in the same story universe as the TV series and games, featuring a different take on the Sonic the Hedgehog universe, with a new look and feel. Sonic and his friends Tails, Amy, Knuckles and new member Sticks, must come together as a team to explore a new world full of comedy and adventure. SONIC BOOM Vol. 1 collects Sonic Boom #1-4.
Script: Ian Flynn
Art: Evan Stanley, Ryan Jampole, Jennifer Hernandez, Rick Bryant, Jack Morelli and Matt Herms
Cover: Patrick "SPAZ" Spaziante
$12.99/$14.99CAN
Direct Market On-Sale Date: 6/3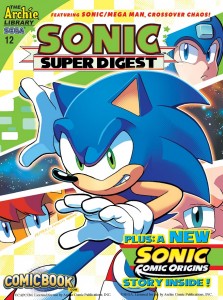 SONIC SUPER DIGEST #12
Get ready for fun & adventure—it's Sonic Super Digest! As the Sonic/Mega Man WORLDS UNITE crossover reaches a fever pitch, see how it all began with a look back at Worlds Collide, the story that started it all, in a special Sonic/Mega Man spotlight feature! Also in this issue is an ALL-NEW edition of SONIC COMIC ORIGINS spotlighting the insidious G.U.N scientist (and villain?!) SNIVELY! This new story fills in some crucial and never-before-revealed gaps in the new Sonic comic universe, and you can ONLY scope this exclusive new story in Sonic super Digest! But that's not all! Don't miss all the classic fun and adventure you love in stories from the comics' 20+ year history! Plus new cover art from Sonic comic super-star Jamal Peppers!
Script: Ian Flynn & Various
Art: Adam Bryce Thomas, Rick Bryant, Jack Morelli, Matt Herms & Various
Cover: Jamal Peppers, Jim Amash and Matt Herms
On Sale Date: 6/10
128-page, full color comic
$4.99 U.S.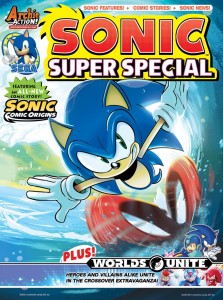 SONIC SUPER SPECIAL MAGAZINE #15
Sonic Comic Origins continues this month with an ALL-NEW story featuring Razor the Shark! This special tie-in to the Sonic the Hedgehog vol3 graphic novel showcases EXCLUSIVE back-story to the underwater side of the new Sonic Comic universe with one of the most popular new characters to debut in the series! The SONIC SUPER SPECIAL MAGAZINE gives you the world of Sonic the Hedgehog comics as you've never seen it before, with tons of comic stories, special features and exclusive articles on the latest and greatest in the world of everyone's favorite blue hedgehog-hero! Along with the all-new Sonic Comic Origins mini-feature, this issue also features a special look back at the history-making Sonic/Mega Man crossover "WORLDS COLLIDE" storyline, as the sequel, WORLDS UNITE, heats up across the Archie Action Comics line! All this plus the extra features you love, an interview with Sonic/Mega Man Worlds Unite penciller Edwin Huang AND a super special cover featuring art by Sonic comic superstar Tyson Hesse!
Script: Ian Flynn & Various
Art: Adam Bryce Thomas, Rick Bryant, Jack Morelli and Matt Herms
Cover: Tyson Hesse
On Sale Date: 5/27
128-page, full color comic
$9.99 U.S.