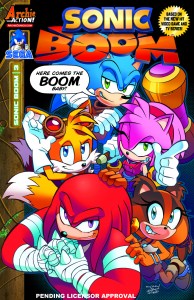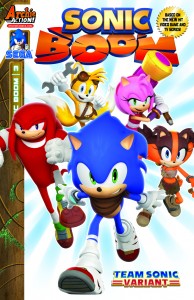 Sonic Boom #3
ARE YOU READY FOR THE BOOM?! The NEW ONGOING SONIC COMIC BOOK SERIES from Archie Comics continues its frantic fun with Sonic Boom #3: Hammer Spaced! Amy's most precious possession, her piko hammer, has gone missing! And if she can't find it, her hammer won't be the only thing she'll lose! While the boys are on a hammer-hunting quest, Sticks tries to show Amy a new arsenal—but will she survive the experience?! Don't miss the exclusive tie-in comic to the new TV Show and Video Games from Sega, featuring cover art from Sonic comics legend Tracy Yardley and a special "TEAM SONIC" variant edition!
Script: Ian Flynn
Art: Evan Stanley, Rick Bryant, Jack Morelli and Matt Herms
Cover: Tracy Yardley, Rick Bryant and Matt Herms
Team Sonic Variant Cover art provided by SEGA
Ship Date: 12/17
On Sale Date: 1/7
32-page, full color comic $3.99 U.S.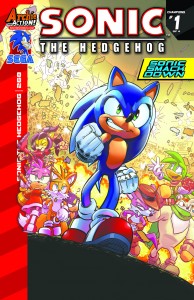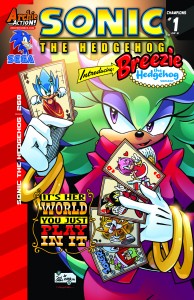 Sonic the Hedgehog #268
TEST YOUR MIGHT with the first chapter in an all-new 4-part SAGA! "Champions" Part One: Sonic is in for the fight of his life! Casino Park is holding an epic fighting tournament, and the grand prize is a much sought-after Chaos Emerald! How many fighters will answer the call? Which champions will make the roster? The knock-down, drag-out battle for the world starts right here! Featuring new cover art from Sonic rising star Evan Stanley, plus all-new variant art introducing Breezie the Hedgehog by Sonic artist Jonathan H. Gray!
Script: Ian Flynn
Art: Diana Skelly, Terry Austin, John Workman and Gabriel Cassata
Cover: Evan Stanley, Terry Austin and Ben Hunzeker
Breezie Variant Cover: Jonathan H. Gray, Terry Austin and Gabriel Cassata
Ship Date: 12/31
On Sale Date: 1/14
32-page, full color comic
$3.99 U.S.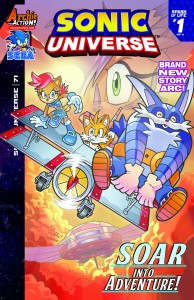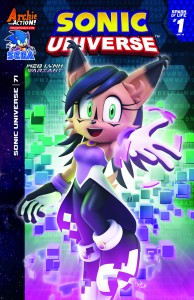 Sonic Universe #71:
ALL-NEW STORY ARC! "Spark of Life" Part One: Nicole detects a distress signal from the Digital World—but how can that be if nobody is supposed to know about the Digital World?! Sally, Tails and Big must travel to Isolated Island to answer the call for help! Who is Dr. Ellidy? And in what way does he link the lives of Sally and Nicole? Featuring a stunning new cover by Tracy Yardley and "Web Lynx" Variant cover art by rising Sonic star Rafa Knight!
Script: Ian Flynn & Aleah Baker
Art: Tracy Yardley, Jim Amash, Jack Morelli and Matt Herms
Cover: Tracy Yardley & Ben Hunzeker
Web Lynx Variant Cover: Rafa Knight
Ship Date: 12/10
On Sale Date: 12/24
32-page, full color comic
$3.99 U.S.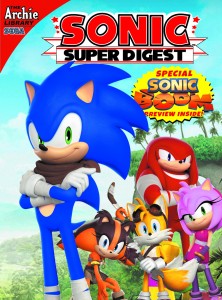 Sonic Super Digest #10
Get ready for fun & adventure—it's Sonic Super Digest! Featuring classic stories from the comic's 20+ year history! Join Sonic and his friends as they embark on daring adventures, face evil villains and save the day one chili dog at a time! This month features a special spotlight on the newest Sonic comic series from Archie Action — Sonic Boom! Check out awesome BOOM cover art, features and a special preview of the anticipated new series! Plus stories featuring Shadow and Knuckles in the wake of the epic "DARK TRILOGY," and everyone's favorite FF leader Sally Acorn! Spin into the fun that only Archie Comics and Sonic Super Digest can bring! Featuring bonus content you can only find in this exclusive digest collection!
Script: Ian Flynn & Various
Art: Various
Cover: SEGA
Ship Date: 12/3
On Sale Date: 12/17
128-page, Full Color
$4.99 U.S.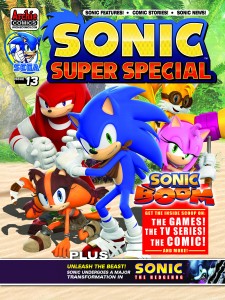 Sonic Super Special Magazine #13
"Sonic Boom-tacular!": The mega-magazine stuffed with Sonic goodness comes speeding at you with exclusive SONIC BOOM special features, awesome art from the comic series and the inside scoop on the biggest Sonic event in decades! SONIC BOOM is the newest Sonic sensation bringing brand new games, cartoons—and now—comics!
The SONIC SUPER SPECIAL MAGAZINE gives you the world of Sonic the Hedgehog comics as you've never seen it before, with tons of comic stories, special features and exclusive articles on the latest and greatest in the world of everyone's favorite blue hedgehog-hero! Featuring an awesome special FOIL cover featuring the cast of Sonic BOOM!
Script: Ian Flynn
Art: Various
Cover art provided by SEGA
Ship Date: 12/3
On Sale Date: 12/17
128-page, full color comic
$9.99 U.S.

Sonic Select #10
Sonic the Hedgehog's most popular graphic novel series is BACK! It's non-stop action in this collection of some of Sonic's newest, greatest—and strangest—battles! Witness one of the craziest clashes between Sonic and Knuckles in Sonic's home city! Witness the newest adventures of Sonic and his friends as they enter the new Sonic comic universe! All this and more in Sonic Select vol. 10—collecting stories from Free Comic Book Day, Sonic the Hedgehog, Sonic Universe, the Sonic Super Specials, and more!
Script: Ian Flynn & Various
Art: Tracy Yardley, Jim Amash, John Workman, Jason Jensen & Various
Cover: Patrick "SPAZ" Spaziante
$11.99/$13.99CAN
6 x 9"
Trade Paperback
128 pp, full color comic
Direct Market On-Sale Date: 1/7