@

furrykef

:

(25 May 2020 - 09:38 AM)

I can handle it, but why do you want to delete your account?

@

Lito290

:

(24 May 2020 - 09:02 PM)

How does one request the deletion of their account?

@

VHS

:

(21 May 2020 - 04:04 PM)

I gotta join that then

@

Shadow

:

(14 May 2020 - 01:17 PM)

Sure is. A lot more lively than here.

@

VHS

:

(02 May 2020 - 08:31 AM)

Oh shoot there's a Discord?

@

Nex

:

(25 April 2020 - 06:58 PM)

It's a disagreement between two people...n judging what goes on in there sometimes that's a very apt description

@ John Roberts
:

(25 April 2020 - 05:34 PM)

What's a Discord?

@

Nex

:

(25 April 2020 - 04:15 PM)

Activity is spread across forum, discord 'n the site chat room. There's life, it's just hiding under different rocks

@ RedAuthar
:

(25 April 2020 - 04:13 PM)

It's still slow. We ain't dead. Just close

@

VHS

:

(23 April 2020 - 11:25 AM)

Wait, I thought this place wasn't dead, it seemed active

@

VHS

:

(23 April 2020 - 11:20 AM)

I LIVE

@

wildfire

:

(22 April 2020 - 10:57 AM)

Ya know John, I wouldn't be surprised if it was me. At least I'm a bit more active these days

@ chief
:

(20 April 2020 - 05:24 PM)

Discod stays going pretty good

@

Nex

:

(20 April 2020 - 01:11 AM)

Is the Discord busy? Still trying t figure out where most of you monkeys hang out.

@

MauEvig

:

(19 April 2020 - 07:58 PM)

Well, I'll be chilling on the Discord.

@ John Roberts
:

(19 April 2020 - 12:32 PM)

It's just you, Wildfire. You're killing us mate!

@

wildfire

:

(19 April 2020 - 09:01 AM)

To be fair, there are more rapid forms of communication these days. The Discord server sees a far bit of attention. I remember the IRC too, but that's dead last I looked

@

MauEvig

:

(18 April 2020 - 08:10 PM)

A shame. And here I'm finally getting back into the spirit of everything Sonic. Well maybe we just need to liven things up.

@

furrykef

:

(18 April 2020 - 06:38 PM)

The forum's pretty dead at the best of times, really.

@

MauEvig

:

(18 April 2020 - 08:36 AM)

lol join the club @wildfire

BW.jpg
Uploaded by
saber16
, Jan 07 2011 03:19 AM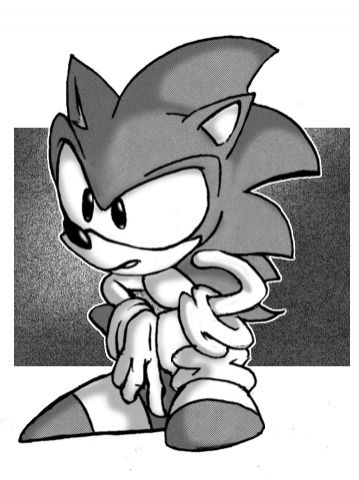 Yeah... I give up on coloring the comic.

It's just not working out for me, and not just how it's colored but the colors I choose. It's one big thing that's slowing the fan comic down, and all I can say is I wish I did this from the start. I'm looking at all kinds of black and white comics to draw some ideas out, anything from dragonball z to Calvin and Hobbes. Anything goes.

Here's a test I did for Sonic with some tones. At first, this was me just experiencing, but in the end I thought this came out pretty nicely... enough to share, anyway.

Oh, and no more 100% SatAM design. The 'hawk wasn't working out.
BW.jpg