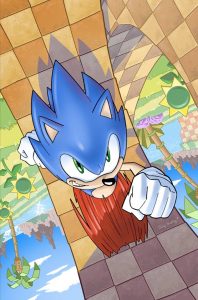 What's up Sonic Comics Squad?! We're here to show off one of the OFFICIAL covers for issue #1 of IDW's Sonic the Hedgehog comic series, featuring the return of beloved Sonic artist Tracy Yardley!

Tracy Yardley! began his career in 2005 with fellow SCAD alum, Nate Bowden on Tokyopop's original manga series,"Riding Shotgun." At the same time, he began his long run (pun intended) on the various "Sonic the Hedgehog" titles published by Archie Comics alongside Ian Flynn, and is currently producing art for Archie's new "Cosmo" series. He has contributed to "Hero Cats of Stellar City" from Action Lab Entertainment, and has produced scripts and pencils for the forthcoming "Galaxy Man and Cosmic Girl."

Now Tracy is back on board once again with Ian Flynn at IDW Publishing; ready for new and exciting adventures with the blue blur, Sonic the Hedgehog!
Read the full story here