Hey guys... been meaning to try to start a topic like this for a while. Don't worry if you don't know what Sonic Epoch is, never played it, etc. You may still have valuable input! So please read on.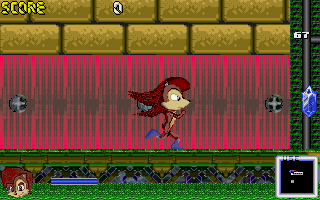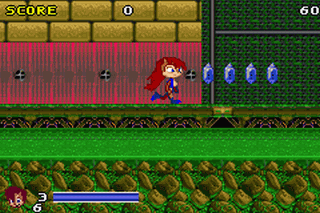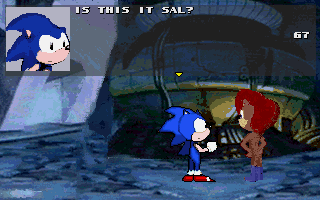 So anyway, in short, Sonic Epoch was a Sonic fangame I originally started putting out around 2000 as DOS-later-Windows PC game and basically "finished" it as a Gameboy Advance ROM in 2004ish. (Both pictured above, left being PC, right being GBA.) It featured Sonic accidentally time-traveling ahead 10 years and having to deal with the fallout.
If you haven't played Epoch or want to refresh your memory, and in general don't mind SPOILERS, you can watch this video which runs through all of the cinematic cut-scenes and just a touch of gameplay complaints. It's got "shocking" elements, so if you are fearful of your childhood being ruined as they say, you might want to stay away.
Moving on, Sonic Epoch was a product of its time. It was the inspiration for Sonique to even create this website. When I was first working on it around 1999, Sonic Adventure was huge, Sega still was king, SatAM had been off the air for quite a while (though there was still hope in a revival), and the fandom was at war. While I'm sure this still happens in some areas, people were really polarized and frequently bickering if you were a fan of "SegaSonic" or "SatAM." Usually this would boil down to petty arguments about what's canon, who the "correct" love interest for Sonic is, etc.
While originally Sonic Epoch was "just a fangame", I started really getting into the warring fanbases of the time, personally sticking to the SatAM camp, feeling like we were all a repressed minority. (Seems so silly now, but I was a young Internet nerd, what do you want?) This positively and negatively effected Sonic Epoch, and is largely responsible for making it what it is. Since it became a rebellious piece, it started developing shocking content that was really just for shocking's sake. (To plug my own little site, you can read more about all of this in verbosity if you want: http://sonicepoch.com/)
---------------------
Anyway, for the sake of this thread, I'm focusing on things that happened in Epoch that I now find juvenile and unnecessary:
* Tails cursing. This was probably the most in-your-face thing that both versions of Epoch had. It was meant to make it edgier and adult. (But really it's just kind of tasteless, isn't it?)

* Sally was somewhat of off-model-leaning-generic in the PC version, but in GBA her future self was mostly some depressed, mood-swinging exaggeration. EMO! Some of that is okay in terms of what the story is trying to accomplish, but I think it was overdone.

* Bloodshed! This was more of a "feature" in the PC version, but obviously to be more adult, we gotta have some gore! Most famously was my oblique Metal Sonic (known as "Sonic-2") ripping a chunk of flesh out of Knuckles-later-became-Ari to kill him.
So where are we going with this? Well, Sonic Epoch is a project that never dies. The PC version of course was just abruptly dropped because I let "real life" get to me. The GBA version was "complete", but it was largely rushed (very evident about halfway through), and I didn't really tell the story I meant to tell. (Which I still have lots of documents with plans and details that never got executed in either version.) Either version suffers from lackluster gameplay -- I rate it as a subpar generic platformer, and certainly not anywhere close to a "Sonic" game experience. (Although, historically, I would not have wanted it to be a "Sonic" game experience for reasons specified.)
I still want to do a Sonic Epoch that actually conveys the image I meant originally, without being influenced by peer pressure or silly politics. Unfortunately, my life circumstance is different now, where the PC one was done in high school and the GBA one in college, I don't really have as much of the free time and latitude as a functioning adult working a full time job. Basically, I can't commit to a Sonic Epoch right now, but I'm still planning one. If I make a major breakthrough, you'll all know for sure.
-------------------------
So finally, what I want to know, including where to draw the line on some of these:
* Tails cursing -- stupid and needless, right? Or does some amount of cursing benefit the character portrayal?

* Sally -- I think GBA did better with the character, but took it too far. Agree/disagree?

* Bloodshed -- where's the line with this? PC was somewhat gory, but GBA really just had Sally's cheek get cut.

* Sexual innuendo -- This was all really a GBA feature (and it weirds me out to read it in GBA; I look at it 10 years later like, "I wrote that??"); while I would never go outright into graphical depictions, was Sally making suggestive remarks too weird? (See above video, 26:04) Also implications of the only female villager, things that happened around the "daemon bot" segment, etc.

* Generically speaking: What would YOU like to see in a proper Sonic SatAM fangame? About the only rule I can think of is that I'd like to box it into only what's canon from the show or leftover from official writer's notes1, besides whatever story the game itself is carrying. I think Sonic should play at least something like a Sonic game (because he is who he is), and Sally should be maybe less battle-oriented and perhaps more puzzle/mechanical-oriented.
----
1 Breaking the last one down a bit, this largely means I wouldn't want to adapt way-off-track "Archie-isms" or Sega specific content except where it's "harmless" and non-conflicting. For example, I'm sure introducing Knuckles is okay if done right. You might not be able to haul in chaos emeralds and a lot of Sega lore (or else it's becoming diluted IMO.) None of this is a hard and fast rule because I'm sure you could adapt any story into the SatAM universe if you do it right. But I'm thinking of a game that can be easily seen at first glance as a product of the SatAM show, not a confusing derivative or mixture of multiple Sonic universes.