Well folks, this is it. The Sonic comic is being cancelled.

I know, Archie claims they're just not taking subscriptions temporarily, but a publisher as desperate as Archie would want subscriptions now, even if the comic were delayed for five months. (bwrosas pointed out that the Dark Circle Comics also have no subscription options, but this has been true for some time now.)

So if it is being cancelled, whose decision? Not Archie's. When they stopped doing Mega Man and Sonic Boom, they gracefully ended the comics. But as you can see from the (late) comic previews, they've been going full steam ahead.

The decision, therefore, was almost certainly Sega's. The license contract could be expiring, and Sega's not feeling it. Probably because they got ticked off at Archie during the infamous lawsuit.

But all is not lost... Sega is currently trying quite hard to regain the enthusiasm of the fanbase. The comics may not be huge in Sega's agenda, but they're surely aware that the comic is quite successful, and that ending it would make many people sad.

The logical solution would be (drum roll) switching the comic to another publisher.

The best candidate would seemingly be IDW Publishing. To quote SEGAbits:

"[A]s the contract for the license is likely up for renewal, SEGA has finally decided to not continue with Archie. Thus, the cancellation that we are seeing play out. Does this mean that Sonic comics are no more? Maybe, or it is more likely that SEGA will go with a publisher that treats licensed comics with much more care. I can easily see Sonic the Hedgehog comics happening with a publisher like Boom! Studios or IDW. Interestingly, Sonic comics writer Ian Flynn also does work for IDW with their Teenage Mutant Ninja Turtles comics. Should Sonic find a home at IDW, it would be relatively easy to reassemble the team."

Point is, this would be awesome, but there is no guarantee. So what are you all waiting for?! :o

I would urge everyone to please write to IDW! Tell them the Sonic comic is [almost certainly] being cancelled, and that you'd like them to pick up the license! And please tell everyone else!

Because,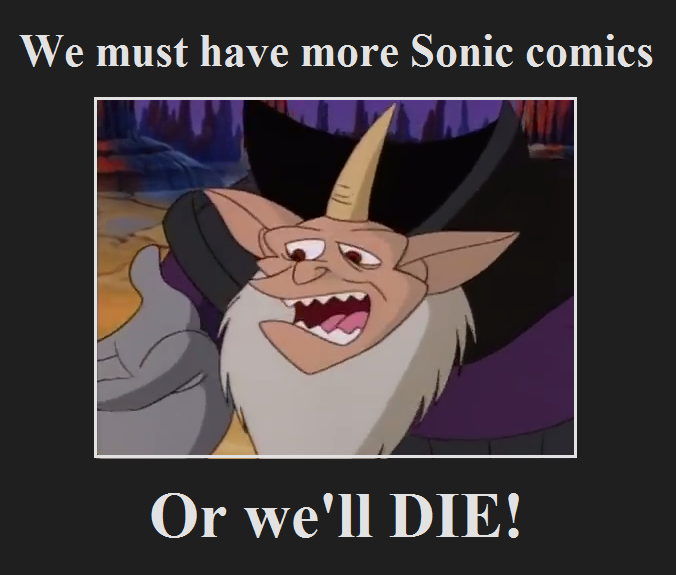 Well OK, the stakes aren't quite that high... Even if the comic is cancelled forever, I think Archie Sonic Online would simply become the "unofficial official" Sonic comic, akin to Sonic the Comic Online, and that would be fine. (Plus, we've got Sea3on!) But I really love the current team of writers and artists for the official comic, and it would be cool if they could keep at it.